For Shropshire athletes there is competition at County, Regional and national level.
Shropshire Sportshall League dates – 2021/22
Awaiting details
Why Compete?
- As a member of the Club you will train hard and the competition is where you are able to put all that work into practice – pitting yourself against other athletes and aiming to set a personal best mark
- In the competition your Club needs as many athletes as possible taking part to get the maximum number of points for the team
- You will also enjoy te camaraderie of your teammates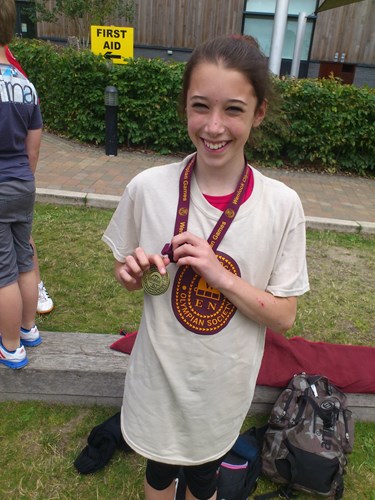 One of our Club member's (Kati Hulme) has told us why she takes part in Sportshall.
"I take part in the sportshall competitions for a variety if reasons. Yes it's fun and yes I want to win but there are many more reasons why.
What do you do on a Sunday? Have a lie in? Watch a film? Have a pyjama day? On most Sunday's I do the same, but when I get an invite to go to the sportshall competitions I want to do it. I always say yes. But you may be thinking why give up your day for relaxing to go to an indoor athletics competition? I do this for my club. If everyone said no then who would represent the club? In fact what would be the point in the club? I know only a few people who will always try to come to these sportshall events. Whether they are good or bad, they still turn up.
Doing these sportshall competitions keeps your fitness up. yes you may only do one event but you're still exercising. By doing any event in the competition like 2 laps, 2 lap hurdles, shot put, long jump etc. you will increase your chance of finding your best event quicker. You can be entered in at least 2 events and a relay.
It took me a long time to find my best event. I tried so many different ones like hurdles, long distance an javelin. But by doing sportshall competitions it was easier to find it. Every time you enter you get points for your club. So even if your club has come last then you will still know that you helped and gave it your best shot.
You compete against many other clubs such as Wenlock Olympians and Bridgnorth. You will see the same people over and over again from any of the clubs who may be in the event/s that you are doing. This gives you a great chance of making new friends. It doesn't matter if you're in a different club, you're still doing the same things."
If you want to compete
Go to the Join Us page to find out how to join Shrewsbury AC
Already a member? Follow this link to contact a Team Manager to let them know you want to compete.
For more information – use the enquiry form.
You can also get more information from your Coach